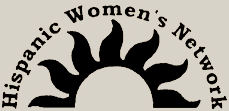 Established in 1989, the Washington State Hispanic Women's Network (HWN) became a non-profit organization. Our primary mission is the creation of a supportive environment for Hispanic women where we seek:
To advance our professional growth;
To identify personal development opportunities;
To enhance the image of Hispanic women and youth;
To offer mentoring relationships with Hispanic youth;
To educate our community about the Hispanic culture; and
To encourage activities which advance cultural pride.
HWN Activities
HWN sponsors and participates in a variety of activities throughout the year. Regularly scheduled events include:
Ethnic Celebration
Youth Leadership Workshop
Summer Breeze Membership Drive
Hispanic Heritage Month—Scholarship and awards are granted for:

Leadership and Overcoming Adversity
Art Display at local Libraries

Christmas Celebration

Posada
Adopt-a-Family
Charity fund
Be part of the Hispanic Women's Network by becoming a general or associate member or by donating for a specific activity.
For further information regarding The Hispanic Women's Network, please contact: HWNofWa@gmail.com
HWN
5442 Foxglove Ct SE
Lacey, WA 98513